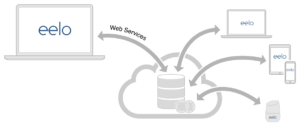 I'm leaving Apple and Google for those reasons and I'm putting this effort into a new project: "eelo". For this project, one big part is the operating system, in particular the smartphone operating system. I started to work on this part with others, and had first results that make me feel that maybe my move to a better digital privacy is going to be easier than expected 🙂
But today, a smartphone without internet services would be like a car without gasoline. We need email, we need online storage, we need advanced online applications… Also people like to access our data from several places and devices. The operating system has turned global.
So eelo needs to provide tools that can be accessed from other places, such as a web browser, but probably also from other computers and operating systems: notes, messages, calendar… And of course, we want all this with full respect of the user's privacy, and no ads.
Continue reading "Leaving Apple and Google: my "eelo odyssey". Part2: web services"